Poppy Appeal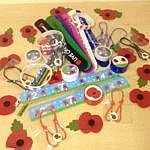 We have many items from the Royal British Legion to sell in aid of the Poppy Appeal.
We have bracelets, rubbers, rulers, pencils, snap bands, pencil sharpeners and stick on poppies.
We do not have any traditional Poppies due to the need for pins.
Please see the picture if you wish to see what is on offer and any donations to the appeal would be greatly appreciated; please send any money in a sealed envelope to the school office.
If you would like anything specific to be sent home please let us know by emailing reception@ashlea.notts.sch.uk or put a note in with your donation.