Ash Lea School is the Centre of Excellence for Wikis for the Rushcliffe Area. Wikis are safe, online profiles that are owned by families, children and young people. Follow this link which tells you a little more about what a wiki is.
If you would like to register for a wiki online please follow this link.
Or for a paper copy that you can print out follow this link.
As a Centre of Excellence, Ash Lea School is here to support children, young people, families, schools and other professionals to develop their wikis. Please contact Kate Davies at the school if you would like to find our more about wikis, if you would like support in registering for a wiki or support in developing your wiki.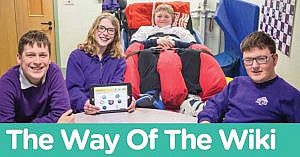 Ash Lea School have been featured in the march 2017 issue of IRIS magazine for the work done with Wikis. Click the link below to read the article.